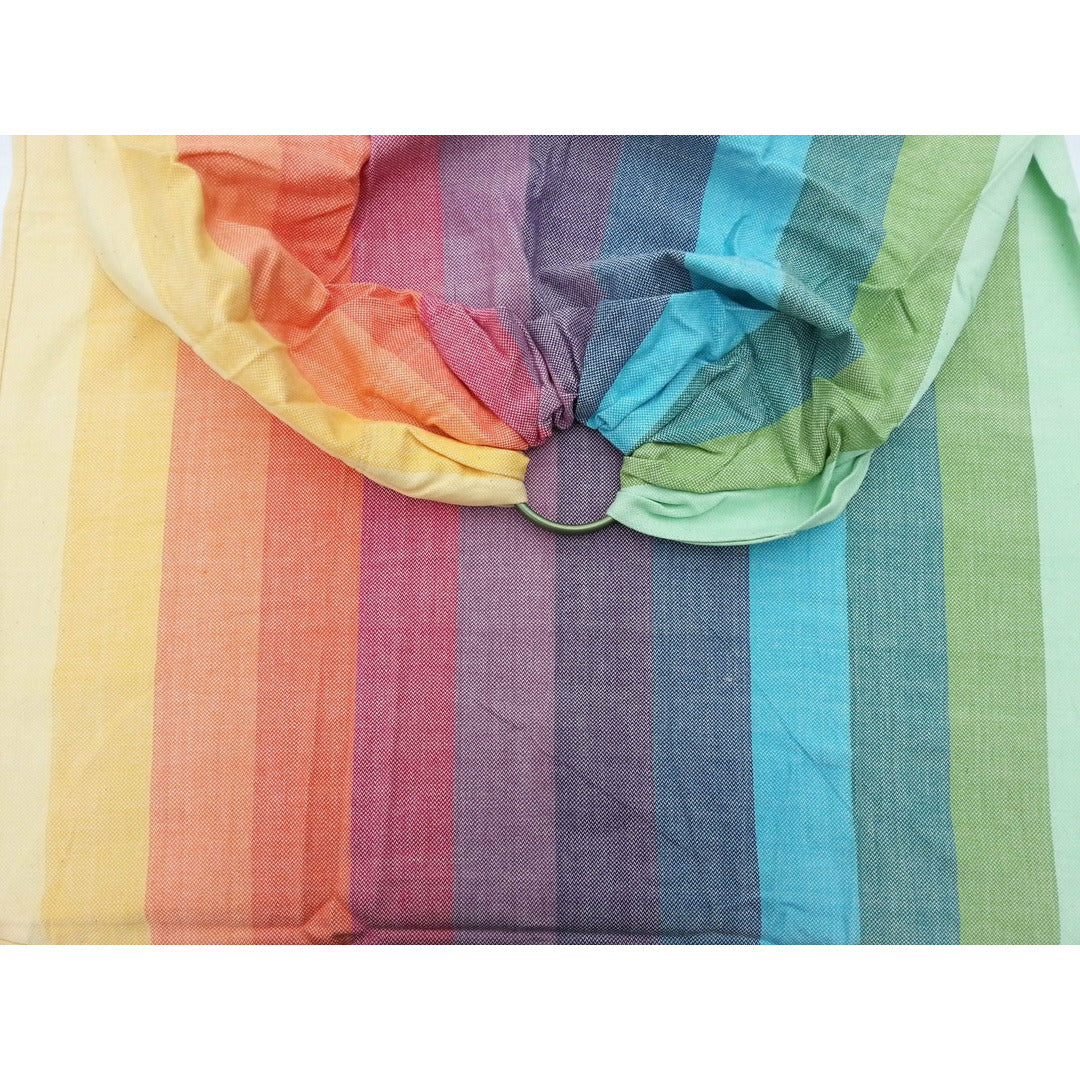 Girasol Ring Sling - Rainbow Springs
We have run out of stock for this item.
Girasol takes the same incredible handwoven fabrics used in their wraps and converts them into these amazing ring slings.
Designed for use from birth through toddlerhood, ring slings cannot be beat for their speed, and they hold a very special place in the babywearing community. Offering options for upright front and hip carries, a ring sling is especially ideal when you're running errands in and out of a car. As your kiddo grows into a wriggly, walking toddler, your ringsling will be the perfect carrier to have him hang out with you (where the action is) and then quickly release him when he wants to roam free.
The gathered shoulder design allows the fabric to spread across your back and shoulder for comfortable distribution of weight. Two aluminum rings are sewn in, to create a safe mechanism for easy tightening and quick release, and can carry a baby up to 35 pounds. Aluminum extruded rings are safe and seamless, and sewn permanently into the carrier. In no time, you will learn all the little nuances to ensure a perfect fit, every time.
Traditional cross twill weave provides a diagonal stretch that ensures the whole fabric supports and conforms to your baby.
Gathered shoulder offers control over weight distribution.
Carrier may be used from birth through toddlerhood and offers front and hip carry positions.
Compact and convenient, ring slings are easy to bring along or pack.
Fabric ends are tapered and hems finished. Aluminum extruded rings are sewn in.
100% Cotton is never bleached. Dyeing and finishing processes use no chemical finishes, formaldehyde, halogen-organic compounds, aromatic amines or brighteners. Ring slings are easy to care for and may be washed in hot water, tumble or line-dried. We recommend washing in a mesh laundry bag to protect the rings and your washing machine.
A Note on Handwoven Fabrics
Girasol fabric is handwoven on traditional looms in Guatemala. Due to the highly-specialized hand-weaving technique, it is common for Girasols to have small irregularities in their fabric, such as small weavers knots, occasional skipped threads in the design, or slightly loose pieces of yarn called "pulls." These cosmetic variances make each ring sling one-of-a-kind and have no effect on the safety or quality of the carrier. If you have any questions or concerns about these details, or wish for more clarification on a carrier you are considering or have purchased, please contact us so we may further assist you. If you order a Girasol from our online shop, it is with the assumption that you understand and accept the nature of the handwoven fabric.
Sizing
All our Girasol Ringslings are approximately 80 in length, but please allow for variances within a few inches. We find that this length works well for most people and can easily be hemmed, should you find the tail to be too long.
Ring Sling Tutorials
Please contact us should you have any questions regarding sizing or the use of this great carrier, we would love to help! You might also enjoy these great tutorial and troubleshooting videos full of tips and tricks for getting a perfect fit with your ring sling.
åÊ