Sacred Bond with Catherine Foley
or 4 installments of $10.00 USD by
More info
$40
In this experiential, healing circle, we will honor the sacred path of motherhood, and awaken to the true transformation of pregnancy on all levels. In a safe and loving space, expecting mothers will make meaningful and embodied physical connection to the womb space, and cultivate attunement with their child in utero.
Using gentle breathwork and somatic awareness, we will explore the physical experience of pregnancy, and open our hearts to the sacred womb space. We will then travel into the womb in a guided meditation, supported by Reiki energy, to meet and lovingly speak with your child. From there, we will journey to connect with the spiritual presence of your baby, and discover how your baby is communicating with you now finding answers to how you can support your baby in pregnancy and birth, how you will guide and teach each other, what your baby's dreams and hopes are, and the gifts your baby will bring to you and to the world.
You will go home with new skills you can practice daily to deepen your experience of pregnancy setting a powerful foundation for bonding and attachment with your beloved newborn, and empowering you to step into the sacred role of motherhood with deep awareness, compassion and wisdom.
Open to expecting mothers in the second or third trimester. Bring a journal and pen, and any special, personal item you'd like to place on the altar for the evening, like a piece of jewelry, your ultrasound photo, a keepsake for the nursery, or a crystal.
Register HERE!
About the Instructor: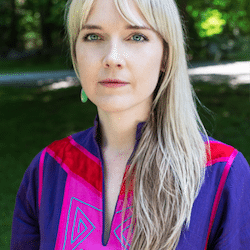 Catherine Foley is a Reiki Master and intuitive empath, and founder of Help Your Self, her holistic wellness company on a mission to bring authentic and genuine healing experiences and resources to New Yorkers. With formal training in energetic and earth-based spiritual healing, mindfulness and herbal medicine, Catherine is skilled in holding integrated, embodied and compassionate space for deep transformation and healing. Catherine offers Reiki healing at locations around the city, including The Spa at Mandarin Oriental, New York. She is an oracle reader at Otherwild NY, The Alchemist‰۪s Kitchen and Jill Lindsey. In all of her work, Catherine is dedicated to guiding you home to yourself, helping you access your innate ability to heal your life and find the freedom and will to shine your true light in the world.